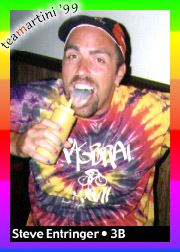 Name: Steve Entringer
Measurement: girth
Ambitions: To be independently wealthy - Get real! ... to pay off my damned student loan!
Turn-ons: The button on the far upper right
Turn-offs: That same button
Strange but True: I once bent down and came up under the dress of Sister Regina.
My Philosophy on Life: I believe in making the world safe for our children, but not our children's children, because I don't think children should be having sex.
I'm Most like this Cartoon Character: Woody Wood Pecker (ha ha, I said "wood" and "woody." Hell, I said "pecker!")
My Favorite Nun: Sister Regina ;-)
RAGBRAI Team I Wouldn't Want to be on: Team Hammer
What I Really Want for Christmas: Vertical toenails. They're easier to paint.
War, What is it Good for: Your meow meow
Movie Quote that Defines My Life: "I'm sitting here with nothing on but a cockring" Pump Up the Volume
If I had a Million Dollars: I'd buy a green dress. But not a REAL grean dress. That's creul.
Worst RAGBRAI Song: That "ride that choo choo" song. I thought I hated it before Quimly, but after I saw the LT doing a dance to it, I realized that I despised it!