Morning in Marshalltown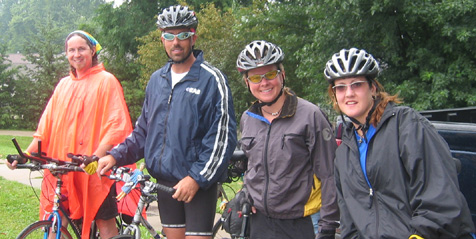 The team is going to return to six as City Girl is in Des Moines and awaiting our directions. The local weather isn't making the team happy. Our host giving us breakfast is. Rick isn't feeling well so he removes the stereo and becomes a stick bike. Where is City Girl? Where is the sun? Is P Diddy mixing Eric Clapton and Tom Petty? (huh?) It takes a bit of time, but we finally navigate City Girl to our location. The rain isn't going to let up and today is the longest route so we better get our asses in gear.
Garwin, Clutier
There isn't a lot of traffic out here at this hour. That's what you get for staying in the start town until 10:00a. The rain eventually ceases by the time we get to Garwin. With it being this late there won't be anyone left. To clarify, anyone that we don't associate with. There are some Angry and a whole lot of Evil. Just pull up a piece of curb outside the bar. It looks like they still have some breakfast food over at the booth. Biscuits and gravy? Serve me up some. No biscuits, how about some toast in its place. Can't do that either. Okay, just some gravy atop of some white bread. That bank sign isn't lying, it's almost noon. Head back into the race and join a great draft line with good music. Those seventeen miles melted away. Now Rick knows how the other half lives. Team Skin is more than worthy of a CD. They love the "No More Bud Bus" part. We move off the corner and find some shade outside of town. No we're not selling anything, but we'll give you some lovin' for free. Todd pops on by and he's a bit frantic. It appears he left his wallet somewhere. Not the best thing to do so far away from home. Barb and Rick take Brad on a search for his cash as the others take off. Ever try spotting wallet while driving in a van. We made it back to the last place he spent money. No sign of it there. Maybe a Good Samaritan does exist. We drop Todd back off in Clutier and wish him the best.

Wlberton, Keystone, Van Horne
The day has turned from miserable rain to oppressive heat. The Van Horne crowd is still hopping by the time we get there, but it is starting to thin out. Might be because Johnny Law is arresting anything in sight (that looks like Supergirl). We might as well head into the café and grab a bite and brew. We can't order anything because Whitey says the town needs to shut down. Just ignore that open until 10:00p sign. There's always food at the Legion. Loose meat sandwiches and 16-ouncers that even the Highway Patrol can't ruin. At this rate we'll never finish the day. Thank goodness we already have a place set up. Rick and Barb head off for said place. Better warn our host that the peeps might be pulling late. Very late.
Newhall, Atkins, Palo, Hiawatha
The rumors of an off-road turn out to be true, but we don't make it there. If we didn't have a host house that may have turned out different. Morris has got a spread ready for us. Chris makes a return appearance. He must have gotten a twelve-hour pass from Whitey. The tents are erected, the bodies are cleaned, the brats are eaten, the bikers are still not here. They'll get here eventually. Morris might be worried that his son and daughter and their friends might drink everything. He hasn't seen our booze reserve. It would take some work by the yutes. The group finally assembles and joins the others in the fed and dirtless category. After a few drinks on the patio it was time for a few to find some fun. Where the hell did they put fun? We ask the firemen and they point us towards the park area. Lots of message boards but not lots of fun. Maybe over at those tents. Some women were never meant to flash. That one over there was one of them. Rick is now 57% gay. With the absence of fun to be found we head on back. Let's give the firemen some grief for not providing us with entertainment for the night. Of course, entertainment can be found in other places. Like maybe walking down the street. She doesn't want to hold your hand right now dude. Make sure you have your spat in the front yard so we can overhear you. Now that's what we call entertainment.
And put quite a dent on ugliness
Fraternal or identical
About the only thing that is not a lie on this sign is that they sell Pepsi
Whitey takes down super heroes
Whitey can't take down LT
But that isn't going to stop them trying
If Laurie didn't spend all of her money on gadgets she might be able to get some less white-trashy luggage
Best friends since those days at ISU
Always eating a well-balanced dinner
Oh for Cri-eye, you've only been drinking for 15 hours!
What makes Morris a great host? The brats? The beer? I'd put my money on the shirt.
Cheer up you fuckers, you're hangin' with Morris.
(Your mouse is needed once again)