It took over 60% of the day's ride to find it, but a town that sold beer finally appeared. The relieved riders exited the gravel and entered Richland. They were greeted with cold cans of hops and barley. The Martini trio of Heidi, Steve and Rick knocked back a can or four before heading out to the next town. As was the theme of the day, the next town wasn't one, but it was a mammoth party. Tallyrand, the town that was a tavern, cleared out a field, but left the manure (at least the smell). The Martinis were joyfully reunited with VW Bug driving Martini Laurie. A record 5-mile Talkabout broadcast made this reunion possible. Her oh-so-cute bug was full of clean clothes and more cold beer. The group hung out with the good people of Evil, Fat Tom's Army, Mystery Machine and that English woman who loved showing everyone her tits. It was reported that Fat Tom had a major hard-on for the lady from across the pond. Soon the sun and the smell got the most of the crowd and it was time to finish up the ride.
At a house, just outside of Dublin, Iowa (a town that was just a general store), Martini's Steve, Rick and Heidi, along with Mystery Machine Todd, were lured off the route, by riders much like themselves into an afternoon of freewill donation corn, beer and long sentences full of commas. The corn bar was set early as Steve shoved four ears into his piehole (not his cornhole as it was a family farm). After sufficiently stuffing themselves with corn and beer, the four remounted their bikes and finished off the shortest ride of the week. Finding Mothership Laurie and Washington shouldn't be too difficult. The four believe that Washington should be the friendliest of all towns encountered that day.
In Richland you can play "Sticker the Mayor"
In Richland beer is plentiful and water is scarce
Richland seems to have it's shit in gear
Rick really enjoyed the creme de la creme of Les Entringer's beer stash - Heilman's Classic Draft
Evil was quite low most of the day
The Subway in Washington has a roll of toilet paper that would suit sasquatch's ass
The Indian food in Washington was possibly the best food offered by locals this week
The second helping of Indian food was a good as the first
Camping next to Pump for second night in a row...could be a pattern for the Martinis
Locals start to worry when bikers put up their tents close to their yards at 11:00 at night
Why was Team Bad Boy encircling that less than hot LT in the beer garden? Are they turning into Team Hard Up?
Get you dinner of snacks at the local Jerk and Squirt
Live bands attract very scary LT
Teenybopper parties can keep you up all night
Especially if your tentmate knows all the lyrics (like Steve)
Discussing out loud RAGBRAI infidelities late at night is not a good way to end the day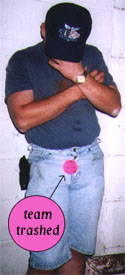 Washington, IA - Something happened to the friendly folks of this town when the bikers arrived. Within hours, the townspeople started shunning riders, acting like whores in beer gardens and even passing out standing up (see picture). The debauchery even caused local bars to make last call a half-hour earlier than normal. Showers posted as "Open until 11:00 p.m." were also closed as early as 9:30. Teamartini riders Rick, Heidi and Steve lucked out and got to the high school just before they could bolt the doors. "Our host house may not have panned out, but this is almost better," Heidi told our reporter. "We're close to town and there is always a piece of curb that we can camp on."