Mediapolis, IA - Upon entering the town, riders were greeted by a fellow biker bearing beer. Not just regular beer, good micro-brews. Martinis Heidi, Steve and Rick thought this could be one of the best stops on the ride. Then the awful truth came out, this man wanted to turn a big profit off of fellow bikers. A definite break from the true RAGBRAI spirit. Steve commented, "What a fucking cocksucker! Bet he drinks shit beer when it's free." The three ventured into town and found a better group of people: Teams CO2, Haze, Mystery Machine and Fish. They all sat around in non-capitalist fashion and downed beers by the iced caseload.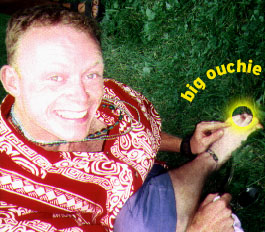 Mount Union, IA - Team Die Hard member Wes was treated and released today for severe toe trauma. Although the patient was reluctant to talk, it was clear from the facial expressions and what Wes didn't say that the injury was caused by people he knew and trusted. It is widely believed that in an attempt to keep Wes from defecting to Teamartini, the elders of Die Hard are using fear and torture to keep the man-boy they call Grasshopper in their cult.

Circle correct answer
Burlington, IA - In what onlookers could only describe as a "wall of water," provided members of Teams Angry and Bad Boy with cheap all-natural showers. "What the hell, we were stinky, the water was refreshing and I like exposing my cock," stated Angry Jim.